About
Catholic YM Blog
The Catholic YM Blog has been referred to as "the 411 of Catholic Youth Ministry." Your blogger is D. Scott Miller, former director of the Division of Youth and Young Adult Ministry for the Archdiocese of Baltimore...
Read more...
Recent Posts
Recent Comments
Categories
Tweets by @CatholicYMBlog
o Thursday, January 31, 2008
NFCYM MEMBERSHIP MEETING
  (Sorry for the delayed posting, it's been busy and wireless is available only in certain sports.)  Beyond birthday celebrating, we have been about the work of the NFCYM.  I've joined the Membership management committee and was named chair of the adolescent catechesis task group – -  Clearly my plan to keep a low profile is not working as well as I had thought.   We heard the state of the NFCYM last night, especially regarding the many collaborative efforts afoot.  Today, we discussed our vision for the field and the organization – -  many involving technology and young adults.
22 HOURS / 50 YEARS

  The birthday celebration was a full day extravaganza of fun yesterday.  It involved waking up early (3:30 AM Central Time) to catch he shuttle to the airport.  I was greeted at the airplane gate with hugs and a chorus of Happy Birthday. Two plane rides later and we arrived in Little Rock.  At the conference registration, I was awarded my "birthday hat" which was my fashion statement throughout the day.  Meetings followed. Before dinner and the general session last night, I was designated the Honorary Duckmaster and helped to escort the Peabody Ducks to their Duck Palace..  My space at the regional table was festooned with declarations.  We proceeded to the regional meeting where cards, gifts (booze), and more song and celebration awaited.  The night concluded with visits to a dueling piano bar (where, I pray to God, there is not YouTube video of my "PeeWee Herman dance" on stage.) Finally, the evening finished with wine and friends.
o Wednesday, January 30, 2008
D. SCOTT MILLER IS
INSIDE THE YOUTH MINISTERS' STUDIO
(Enter the studio here.) Ahhh, the much heralded Mike Patin guest host gig.  After 41 episodes of the Inside the Youth Ministers' Studio podcast, I'm stepping out of the interviewer's chair and into the interviewee's seat, leaving the driving to Mike. And, if you listen closely, I was thinking of you! Meanwhile, what's up with this change in programming . . ? Read below.
THAT'S ME- ALL OVER
George Carlin is quoted as saying "Life is not measured by the number of breaths we take, but by the moments that take our breath away." On this, my 50th birthday, I sent a note to 50 people who made a difference in my life, who took my breath away.  The card was all about them.  The cover, seen here, however, was pretty much about me.  If you'd like to figure out who's who, what's what, and when's when on some of these pictures are, see here.
THANKS
Many years ago, Mr. Rogers received a daytime Emmy Lifetime Achievement Award.  Today, I thought it was important to share his sentiments and encouragement: All of us have special ones who have loved us into being. Would you just take with me ten seconds to think of the people who have helped you become who you are. Those who have cared about you, and wanted what was best for you in life. Ten seconds of silence. I'll watch the time.
PLAY ON
What's next?  It can be found in this quote from the The Legend of Bagger Vance. Seems like yesterday I used to see old guys like me… and wonder why they still bothered with this crazy game. But it doesn't matter. As Bagger once said, "It's a game that can't be won, only played."  And so I play. I play on. I play for the moments yet to come… looking for my place in the field.
o Tuesday, January 29, 2008
WEB SITE ADVISORY
  We will be posting tomorrow – that's not the problem. But, while posting tomorrow, we are also taking a little "me" time. If self-referential blogging (which this site often avoids) offends, you was warned.  Come back and see what this all means! After that, we will be in Little Rock for the NFCYM's annual membership meeting and hope to be live-blogging the activities as well as collecting some podcast interviews!

THE HISTORY OF
YOUTH MINISTRY
  For some reason this week, I'm a little nostalgic regarding my own life and times, including my experiences with youth ministry. . . And contrary to any suggestions that others might make, I was not around at the very beginning – – the era of the caveman with the very sweet dinosaurs as accounted in Exodus 74.
WHAT WE ARE LEARNING ABOUT ADOLESCENT CATECHESIS
~ THE FRAMEWORK
The USCCB has recently published the Doctrinal Elements of a Curriculum Framework For the Development of Catechetical Materials For Young People of High School Age here. Watch this site in upcoming weeks for more comment and resources.
WHAT WE ARE LEARNING ABOUT ADOLESCENT CATECHESIS ~ A FINAL WORD
I was recently reminded of a favored quote: Many young people have never really felt the challenge of the message of Jesus in their lives. In not challenging them we have failed them. so stated Archbishop Diarmuid Martin Dublin, Ireland; during a June 20, 2005 homily where he indicated that his archdiocese needs a "radical shape up" of its faith formation program for young people.)
o Monday, January 28, 2008
TWINS AND A CHAMPIONSHIP – – MY "KID"

   Coaches giving birth in-season isn't unusual, but this pregnancy is uncommon, not only because Frese is working as much as she can while carrying twins. The No. 3 Maryland Terps (22-1), with four starters from the 2006 NCAA title team, are in the hunt for a national title. No women's basketball coach has won an NCAA Division I title and given birth in the same season. Which explains one of Frese's favorite lines: "We're trying to deliver twins and a championship." Read more here about this young women who was confirmed through parish programming that I led in the 1980's in Cedar Rapids.
WHAT WE ARE LEARNING ABOUT ADOLESCENT CATECHESIS ~
THE SYMPOSIUM
There is a growing concern throughout the Catholic Church around the effectiveness of current approaches to the faith formation of adolescents. To begin addressing this, the Partnership for Adolescent Catechesis (NFCYM, NCCL, and NCEA)  will host an invitation only National Symposium on Adolescent Catechesis during November 5-8 in Maryland as part of their National Initiative. The event is designed to create a think-tank setting where national, diocesan, parish and Catholic school leaders and practitioners will gather with bishops, publishers and academicians to critically examine what is and is not working in the current system of adolescent faith formation. Learn more here.
o Sunday, January 27, 2008

MY NEXT JOB
  It's difficult to resist a church that has the sensibilities and the wherewithal to advertise for a youth minister on YouTube.  While I find the thought of playing Twister on the wall a little disturbing, the kids do sell their church, don't they?  Hmmmmm, now about this whole Methodist thing…
NOT MY NEXT JOB
  Meanwhile, Marko recently posted this job description:
TITLE: Youth Pastor, Part-Time
DESCRIPTION: Responsible for managing three leadership teams for ages 11 years through 22 years old. Will meet with teams on regular basis to pray and plan activities and events.
REQUIREMENTS: Must love the Lord God with all your heart, soul and mind and have a passion for young people coming to Jesus. Also, must be a minimum of 25 years old and married with a degree, from seminary or Bible college in biblical studies or currently in seminary or Bible college to obtain a degree. Must have at least one year proven experience as lay person or staff working with youth or must have served as a youth camp counselor or some equal experience for at least one year.
COMPENSATION: $150/week (That is NOT a typo!)
WHAT WE ARE LEARNING ABOUT ADOLESCENT CATECHESIS ~ THE SYNTHESIS
Michael Horan, in the last of the PAC's series of articles identifies three theme running throughout.  Here's one of them: The authors of these essays understand and esteem what speakers of the Spanish language might summarize as the distinction and inherent tension between saber and conocer. These two verbs in the Spanish language translate in English as "to know." The first, saber, is the verb used to indicate that one knows facts. A disciple can make the claims: "I know the stories in the Gospels and the messages contained in the letters of the New Testament; I know the words of the Eucharistic Prayer and can participate in the responses; I know the tradition of moral theology and moral reasoning that will help me to arrive at good decisions." All these require a knowledge that is cognitive—in Spanish, saber.
    But, according to the authors, a disciple also can make these claims: "I know Christ as the son of God and encounter this reality in prayer, I know that God is love poured out in Trinity, saving the world; I know the Holy Spirit as the ground and motivation of a meaningful life." These senses of knowing result from personal encounter, and in Spanish that word for knowing is conocer. Read more here.
o Saturday, January 26, 2008
CONFERENCE POWER POINT
  To the assembled gathered in DC, thanks for a lovely afternoon.  Now, go get 'em!!! Slide are here.

MARCH FOR LIFE AFTER-ACTION REPORTS
  Catholic News Service's NewsHub has a great series of pictures here. Florida Catholic ran a blog on the adventures of young pilgrims from Miami here. Seemingly, Philly's Cardinal Rigali gave a great homily at the vigil Mass for life at the Basilica of the National Shrine of the Immaculate Conception that utilized the new Incarnation Dome as a great visual effect.  The CNS report is here.
NEWSLETTER – – HOW WE ROLL
   Go ahead – -  take a look at our office e-newsletter which was sent yesterday. And then, please remember that we have been a staff person short in our office for the past half year. . .  Whew!
WHAT WE ARE LEARNING ABOUT ADOLESCENT CATECHESIS ~ CONNECTING CHRIST TO CULTURES
The Jesuit priest  Michael G. Lee of Loyola Marymount in LA, in Adolescent Catechesis in a Culturally Diverse Context explains that: The church is committed to connecting Christ to cultures. Each Sunday, the U.S. Catholic Church prays in more than eighty languages and labors to help people to make sense of their lives and cultures in light of the life, death and resurrection of Jesus Christ. It might be said that the Church inculturates the Gospel each Sunday. That is, it strives to help faith in Jesus take root in diverse cultures so that it grows like a plant in its native soil. "It is not a superficial adaptation designed to make the Gospel more pleasing to its hearers. It is, rather, a process that brings the transforming power of the Gospel to touch persons in their hearts and cultures at the deepest levels."  The NDC outlines a process for inculturating the Gospel that involves listening to the people's culture for an echo of the word of God, and then discerning the presence of (or openness to) authentic Gospel values. Learn more here
o Friday, January 25, 2008

COMPANY'S COMING INSIDE THE YOUTH MINISTERS' STUDIO
   (The following post – number 2,002! – comes from the school of when you've got nothing really to say, then just hype:) After 40-some podcasts, three cheap mics and a transfer to a digital voice recorder, guests from foreign lands as well as other churches, folks from parishes, dioceses, and youth-serving agencies – – – Inside the Youth Ministers' Studio is preparing for its first guest host, Mike Patin. Make plans to stop by Wednesday for a very special episode of the studio. Meanwhile, the intrepid blogging and podcast staff is attempting to spruce up the joint in anticipation of the Cajun Commissioner of Catholic Conviction.
WHAT WE ARE LEARNING ABOUT ADOLESCENT CATECHESIS ~ THE ULTIMATE MODEL
Laura Henning takes a look at Forming Disciples of Jesus in Parish and School and suggests that: Those who work with young people have become aware of the importance of methodology in discipleship formation. We need only look at the ultimate model himself, Jesus Christ, to see that it is not just what we teach but how we teach it and live it that is of supreme importance. The messenger does affect the message, and lived experience
is crucial in internalizing the head and heart knowledge. For young people, truth is verified by experience.  Learn more here
o Thursday, January 24, 2008
CATHOLIC YOUTH MINISTRY BLOG POSTING #2,000
By a rough inventory of the entirety of the blog since it started August 20, 2004, this seems to be the 2,000th separate blog entry.  That's one heck of a lot of blog posting, writing, hyperlinking, etc., etc., etc. Thanks for your support and patronage.  It is an honor to serve.
CH – CH – CH – CHANGES

I still don't know what I was waiting for and my time was running wild. A million dead-end streets and every time I thought I'd got it made, it seemed the taste was not so sweet. So I turned myself to face me but I've never caught a glimpse of how the others must see the faker. I'm much too fast to take that test.
WHAT WE ARE LEARNING ABOUT ADOLESCENT CATECHESIS ~ CONTEXT
Dr. William Dinges, of the Catholic University of America, in his The American Cultural Context for Adolescent Catechesis, shares a concern that: In the Wild West realm of American popular culture, entertainers like Madonna have been extremely adept at manipulating religious symbols to commercial advantage— whatever else the alleged rationale for their display. The "Material Girl's" employment of Sanskrit symbolism, Jewish Kabbalah (red strings) and, currently, crucifixion imagery, renders these symbols cultural fodder for highly individualized and, not insignificantly, highly narcissistic needs and statements. As religious symbols increasingly become matters of individual choice and manipulation, the familial, cultural, and institutional networks that stabilize their particular meaning further diminish in strength.
   One important implication of the commodification of religion is that religious traditions increasingly function not so much as communities of faith, but as cultural toolkits. They provide an array of religious "stuff" from which it is possible to construct an individualized religious identity or, in the case of something like the current popular appropriation of yoga meditation/exercise, a discipline largely oriented toward beauty and healthcare needs. This toolkit dynamic is facilitated both by the scope of religious diversity in America and where there are significant numbers of institutionally disconnected "spiritual seekers."  Learn more here
o Wednesday, January 23, 2008
LEE NAGEL IS INSIDE THE YOUTH MINISTERS' STUDIO
(Enter the studio here.) As we are in the midst of our series on Adolescent Catechesis, it is important to recognize our partners in the ministry.  Lee Nagel, as executive director of NCCL, is partnering on behalf of his organization with NFCYM and NCEA on the Adolescent Catechesis project of which we have been reporting through January 18-29. Lee brings a different voice and perspective into our conversations – – worth a listen
FOR LIFE

The church youthful gathered on the streets of DC yesterday in support of Life. The Verizon center overflowed quickly into two satellite churches which we also jammed packed. Baltimore's Bishop Malooly greeted folks the Verizon. Steve Angrisano, ValLimar Jensen, and Matt Maher rocked the house until Mass started
and then led calm, careful, meditative songs. Archbishop Wuerl presided with Balto's Archbishop-emeritus Keeler pictured left of him. Ran into groups from Iowa, Kentucky, Texas, Ohio, New Hampshire, and my high school in Warminster, PA.  Baltimore folks, of course, received their Baltimore for Life winter caps and headbands. (Click pics to enlarge.)
WHAT WE ARE LEARNING ABOUT ADOLESCENT CATECHESIS ~
FORMATION OF DISCIPLES, OUR EVER PRESENT GOAL
Michael Theisen, of the NFCYM, in Adolescent Catechesis Today: On the Road to Transformation informs that: The General Directory for Catechesis (GDC) says that "the definitive aim of catechesis is to put people not only in touch with, but also in communion and intimacy, with Jesus Christ" (#80) and the Catechism of the Catholic Church reminds us that "the totality of the church's efforts is to make disciples…" (#4). This primary task of catechesis in forming disciples is echoed in both the National Directory for Catechesis (#20) [NDC] as well as the USCCB youth ministry document, Renewing the Vision (p. 9). If these guiding documents agree that formation of disciples is our ever present goal, our all encompassing task with teenagers, then together, we must question how well our present methods and models give birth to this reality.  Learn more here
o Tuesday, January 22, 2008
TESTIFY
I frequent the Catholic Youth Ministry Blog for several reasons, visiting this site saves me time by serving as a link to current and important information in the area of adolescent catechesis and our church. This site provides me with gives a glimpse of what is being accomplished in other diocese which helps to feed my imagination for working in my own diocese. As if all that weren't enough, Scott offers me free power points that I can use, as long as I give a little credit to the creator (of the power point). Kim McMillian is youth minister at St. Celestine Parish in Elmwood Park, IL  (Hey, Kim . . offering a little credit to the big-C Creator probably wouldn't hurt either!  Thanks!)
JUNO
    Please refer back to the recommendation posted on December 28th about this movie.  Since that time, the movie and lead actress received Golden Globe consideration, has received recent praise from both Deacon Greg and Marko, has been out for seven weeks and remains in the top 5 for box office (take that Alvin and the Chipmunks!) So, have you seen it yet?  What are you waiting for….?
VISION
    The NFCYM's Connections e-newsletter came out recently and NFCYM board chair, Dr. Carole Goodwin, offered these reflections: The USCCB published Renewing the Vision in 1997, ten years ago! It gave us a framework for our ministry and proposed a vision for our work. It is still the document that guides our work and names a common vision? Do we still use it? Do we still operate with it as our framework? Has it stood the test of time?
      Ask yourself:
> Do I know this document and its content and its proposed vision?
> Does my bishop (pastor/ principal) know it?
> Do the pastoral leaders in my parishes know it?
> Do I believe the document is still pertinent for my work in my parish or diocese?
> What does the document name as critical components and elements for effective youth ministry?
> Are those incorporated into the programming I offer in my parish or diocese? Should they be?
> What is missing?
> What do I need to do to assure that this document is the framework for the ministry that has been entrusted to me?
While I agree with Carole that we can not presume that everyone is operating out of the same renewed vision, I still maintain that there is opportunity to refocus our vision
WHAT WE ARE LEARNING ABOUT ADOLESCENT CATECHESIS ~ PROXIES OF JESUS
Dr. Michael Warren, of St John's University, New York. Reflections on Parish and Adolescent Catechesis reminds us that: From the start, catechists knew one learned the ways of Jesus-faith by becoming a member of a group that embodied that faith. Life in the ekklesia was the means of communicating the secrets of Jesus-faith. . . Moving into this alternate culture was not an overnight affair. . . It took time to come to see other persons as proxies of Jesus, and to see Jesus as God's covenant with the poor, and even more time to master the skills of the Jesus-Way. Tied to the new sensibility were habitual ways of responding to situations involving care for the sick, the imprisoned, the physically and mentally impaired, the hungry, those lacking shelter—and also, those named as enemies. It was useless for the catechumen to claim these habitual ways of thinking and acting were in place; only actions could exhibit effectively these new ways of thinking and acting. Those admitted to the period of formation in the Jesus-Way did not proceed to baptism because they claimed to be followers but because they demonstrated the behaviors of discipleship after being coached in these behaviors by virtuosos who exhibited them. The believing, struggling, worshiping community, including the home as an active participant in that community, provides the locale for such behaviors. Learn more here
o Monday, January 21, 2008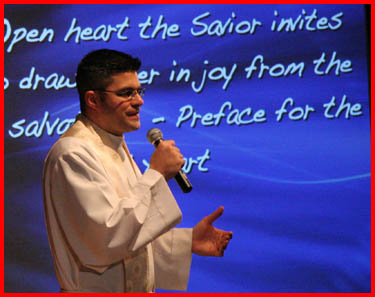 LEARNING CURVE THE SIZE OF AUSTRALIA
  " 'Business as usual isn't working.' Something new is needed! A recent study out of the University of North Carolina researched how effective different denominations have been in passing on the faith to their young. Catholics came in last. If you think of it, most of our efforts to reach out to young people revolve around sacraments: baptism, first reconciliation, first communion, confirmation and marriage. What we fail to do is walk with our young people from one sacrament to the next." Father Matt Williams was recently appointed director of the Archdiocese of Boston's newly configured Office for the New Evangelization of Youth and Young Adults.  He got some prime space in the blogosphere as his boss, Cardinal Sean, turned over the bottom portion of a recent blog posting to him. "I would like to express how honored, happy and excited I am about this new office, and the opportunity to serve and work with you. As I begin as director of this office, I realize that I have a learning curve the size of Australia. It is my intention to meet with all those serving young people. It is a new beginning and opportunity for all of us and I sincerely want to hear the voice of the Holy Spirit working through the many people He has chosen to serve the Church. Read more (by scanning down) here
SPEAKING OF AUSTRALIA

  Look back to Friday's posting (Ahhhh, Youth) about Melbourne teenager Corey Delaney. The jerky little dude is now getting too much publicity. He's raking in thousand-dollar offers to host underage parties all over Australia. An American t-shirt company has immortalized the unapologetic teen with his own shirt. There's even a website where you can slap a virtual Corey. Here's an odd request. . . this kid (AND HIS PARENTS) needs our prayers
WHAT WE ARE LEARNING ABOUT ADOLESCENT CATECHESIS ~ WHAT IS AN ADOLESCENT CHRISTIAN DISCIPLE?
Jeffrey Kaster, of Saint John's University, takes a look at The State of Adolescent Catechesis Today: A Review of the Literature and determines that: Challenging questions remain. What is an adolescent Christian disciple? What adolescent catechetical efforts actually form Christian disciples? How might parishes and schools effectively engage and support parents in fostering Christian discipleship practices in their homes? What impact does the instruction provided by Catholic schools or parish programs have on forming adolescent Christian disciples? Is Catholic youth ministry by definition adolescent evangelization and catechesis? Learn more here.

o Sunday, January 20, 2008 (post # 1987)
YOUTH RETREATS – UNPLUGGED
Teens don't talk – they message. Their increasing dependence on electronic
communication challenges retreat directors. "This is my opinion, and it's merely my opinion," said Father Martin S. Nocchi, director of the O'Dwyer Retreat House in Sparks, which offers retreats for about 8,000 teens each year, "technology is great, but for many young people it's a life. They're not using the Internet the way it was intended to be used. It's broken down the ability to be able to communicate person to person." It's an adjustment for today's teens, but retreats are cell phone and Internet free.  Read more here from Baltimore's Youth Retreat House.
365 DAYS
And someone else takes charge
WHAT WE ARE LEARNING ABOUT ADOLESCENT CATECHESIS ~
MAKING YOUNG DISCIPLES
Maura Thompson Hagarty, of St. Mary's Press, encourages in What the Church Has Been Telling Us about Adolescent Catechesis that: The challenge of adolescent catechesis does not exist in isolation from the challenge of implementing effective catechesis for adults and younger children. Nor does the challenge of adolescent catechesis exist in isolation from the challenge of showering genuine love and concern upon adolescents and inspiring young and old alike to enthusiastically witness a Christian way of life, participate fully in liturgy and embrace the church's mission as their own. In the right context, catechesis plays a critical role in enhancing the participation of adolescents in the life of the church. There is no doubt that tending to context adds complexity to the challenge of adolescent catechesis. Without this extra work, however, a community's ministry of catechesis with adolescents may be more hindrance than help in the process of making young disciples. Learn more here
o Saturday, January 19, 2008
TESTIFY (post # 1984)
Concerns of youth and youth ministry are concerns of the wider church community. Staying in touch with this critical area of the Church's life is made easier for me because I am a regular reader of the Youth Ministry Blog. Brian B. Reynolds Ed.D., Chancellor & Chief Administrative Officer, Archdiocese of Louisville.  (Brian had graciously sent me a note about a month ago, and then responded again with this Testify-imonial  Thanks, Brian!)

FREE HUGS
    Just as memories of NCYC are fading comes a reminder of the kids with their "free hugs" signs roaming the hallways.  While, perhaps, their motivations might have been more hormonally driven than altruistic, there is more to the "Free Hugs" story than I had originally thought.  Read more here
WHAT WE ARE LEARNING ABOUT ADOLESCENT CATECHESIS ~ COMMON VISION OF DISCIPLESHIP
Paul Henderson, of the USCCB Department of Printing and Publishing (and a facilitator for the PAC group), notes in The State of Adolescent Catechesis: Strengths, Weaknesses, Opportunities, and Threats that: Within the ministerial fields (religious educators, school faculties, and youth ministers) a common vision of discipleship is emerging rooted in a personal relationship with Jesus Christ. The General Directory for Catechesis (1997) emphasizes discipleship when it states "the definitive aim of catechesis is to put people not only in touch, but also in community and intimacy, with Jesus Christ." . The bishops emphasize discipleship in the National Directory for Catechesis, Our Hearts Were Burning Within Us: A Pastoral Plan for the Adult Faith Formation in the United States, the apostolic exhortation on the laity, Christifideles Laici, and [their] own reflections in Called and Gifted for the Third Millennium [where they] envision a laity who are living witnesses [disciples] to Christ: well-formed in faith, enthusiastic, capable of leadership in the Church and in society, filled with compassion, and working for justice.". Renewing the Vision: A Framework for Catholic Youth Ministry, identifies a goal of ministry to and with and for youth "to empower young people to live as disciples of Jesus Christ in our world today." Learn more here.
POWER POINT U: MEDIA
Thanks, class, for attending Power Point U.  Here is your give-away find of the week.  I have begun inserting YouTube clips into my presentations.  (Sometimes, I have to go outside the PPT presentation, because I have yet to fully learn how to do it correctly, but, nonetheless,)  I have found a cool way to convert stuff from YouTune into usable files for presentations and you can use it here.  It is V Convert.  You  have to register for it, but it seems faster than Vixy.net which I was previously using.  Furthermore, I cannot believe that I hadn't discovered Wing Clips earlier!!!
o Friday, January 18, 2008
AHHHHH, YOUTH!
     Melbourne kid's parents are away. . . in China.  Kid hosts party.  500 show up. Party guests turn wild and damage to police cars and neighbours' properties. Police, the air wing and the dog squad were used to disperse party-goers.  Kid is interviewed shirtless on television next day  Says he believes that his parents won't find out.  Good luck!  See story and video here
WHAT WE ARE LEARNING ABOUT ADOLESCENT CATECHESIS ~ MAKE DISCIPLES
Dan Mulhall, formerly of the USCCB Department of Education, writes in Adolescent Catechesis and the National Directory for Catechesis: It's About Discipleship that "catechesis is the totality of the Church's efforts to make disciples, to help men believe that Jesus is the Son of God so that believing they might have life in his name, and to educate and instruct them in this life, thus building up the body of Christ." Learn more here.
POWER POINT U: FUTURE
Just because power-point presentations are not only about the presentation, we look to  Presentation Zen for a discussion of a different way of presenting. "The future belongs to a different kind of person. Designers, inventors, teachers, storytellers — creative and empathetic right-brain thinkers whose abilities mark the fault line between who gets ahead and who doesn't." We're living in a different era, a different age. An age in which those who "Think different" may be valued even more than ever. Read more here
o Thursday, January 17, 2008

CAROUSEL
There is a great TV show on USA called Mad Men where the characters are all involved in an advertising firm in the '60's. (and, no, we are not talking Bewitched's Darren Stevens.) Listen to the pitch regarding the latest thing- the slide projector. "Technology is a glittering lure. But, there is rare occasion when the public can be engaged by on a level beyond flash – – if they have a sentimental bond with the product."  Is this not youth ministry? Does not the church address "pain from an old wound. – – a twinge in your heart far more powerful than memory alone."  Our communion as church allows us to "travel the way a child travels – round and round and then back home again to a place where we know that we are loved.'  It's not church, It is the carousel.
WHAT WE ARE LEARNING ABOUT ADOLESCENT CATECHESIS ~ THE PAC

The Partnership for Adolescent Catechesis (NFCYM, NCCL, and NCEA) has received two grants totaling $525,000 to implement a National Initiative on Adolescent Catechesis, a comprehensive seven year, six step process designed to explore how Catholic teens can more effectively be formed in their faith. The grants include $450,000 from the Lilly Endowment Foundation and $75,000 from an anonymous donor which will provide funding through 2011. The Partnership has hired Elzbieta "Ela" Milewska, a doctoral student in catechetics at The Catholic University of America, to serve as the project coordinator for the National Initiative. Learn more here.
Meanwhile, over the next weeks, we'll review some of the comments from the PAC's series of article on adolescent catechesis.
POWER POINT U: PACING
So, that one singular slide has stayed up on the screen for, like, forever.  It's all a matter of pacing. (The pacing of the Carousel slide show above was pitch perfect – – – for its time.) You don't have to watch the whole thing to get the full impression, but Dick Hardt's presentation is in what has become known as the Lessig style of presentation.  It is clearly telling a story in a rapid, visual sense- using images, background colors, and repetition to get the point across. Watch the presentation from here.
STAFF OVERNIGHT
    Guaranteed late posting tomorrow.  Our office staff will be away on an overnight planning meeting in a remote wireless location.
o Wednesday, January 16, 2008

ROBERT FEDUCCIA IS "INSIDE THE YOUTH MINISTERS" STUDIO
(Enter the studio here.) Every thing is slightly different now.  Isn't that the goal of any retreat? Robert Feduccia is often in the background as general manager for www.spiritandsong.com, but he was center-stage at our Sabbath by the Sea weekend and had all of us looking differently at ourselves as well as what we bring to the Eucharistic table.  In the meanwhile, we also taped a podcast. Give it a listen.
WEDNESDAY STUDIO SCHEDULE IS BACK
Podcasting is one of the more time consuming aspects of this site.  A move to temporary cubicle office living also was a complication.  A Christmas digital voice recorder as well as a wire that connects into the phone (thanks, Gene, for the recommendation on that! Our prayers are with you in Peru.) will help make a difference.  Already, I have three interviews in the can – including the surprise episode with Mike Patin as host, a fourth interview scheduled for early next week, and time scheduled to explore the target-rich environment that is the NFCYM's annual membership meeting in Little Rock at month's end.  So, come back every Wednesday and see what's up and who's up!

TESTIFY YOUR LOVE
   In February, we'll be doing a little web promotion of the www.catholicYMblog.com site you are on as well as the podcasts, and the slideshares. . . Whadda ya say. . . Wanna help out???  Can you e-mail in a one-line comment as to why you read and/or (hopefully) enjoy this site? Make sure to include your name, your role (job title, including volunteer), and your parish. school, and/or diocese. (Major bonus points of you are outside the continental US) We'll try to run a few comments over the next few days.  And, thanks!
GOING TO THE WALL
  Valentine's Day is but a month away and, yet, this web-site is a full service site, ready to met your every need.  What can you do to express your affections for your one true love??? Me- I'm going for the inflatable valentine monkeys.  But, you, yep, you seem slightly classier. . .  What not post a graffiti greeting on the Palestinian Wall?
POWER POINT U: MORE TIPS
Discovered the mother-load of power-point tips on this page.  I've yet to go through all the hyper-links but the few that I have hit have taught me new things.  If you power-point at all, this page is worth a bookmark (and how often have you heard that recommendation on this page!)
o Tuesday, January 15, 2008
THEOLOGY ON TAP 
   Bene+dic, Domine, creaturam istam cerevisae, quam ex adipe frumenti producere dignatus es: ut sit remedium salutare humano generi: et praesta per invocationem nominis tui sancti, ut, quicumque ex ea biberint, sanitatem corporis, et animae tutelam percipiant. Per Christum Dominum nostrum. Amen
Bless, O Lord, this creature beer, that Thou hast been pleased to bring forth from the sweetness of the grain: that it might be a salutary remedy for the human race: and grant by the invocation of Thy holy name, that, whosoever drinks of it may obtain health of body and a sure safeguard for the soul. Through Christ our Lord. Amen
POWER POINT U: TIPS
Garr Reynolds offers some serious pointers regarding ppt's.  They include:
> limit bullet points and text
> have a visual theme, but avoid using power point templates
> spending time in the slide sorter
Read his top ten slide tips here
o Monday, January 14, 2008
DISCIPLESHIP: TAKING UP THE CROSS
  Last month Cardinal O'Malley kicked off Boston's bicentennial celebration with these comments: "It has never really been easy to be Catholics, to be a disciple. Our religion is not to be an escape. An exercise in comforting the comfortable. It's rather about discipleship. Taking up the cross each day with the confidence that love lightens the burden. That his yoke is sweet and his burden light. In the Scriptures, after Jesus' arrest, Peter tried to follow Jesus at a safe distance, while Mary was standing next to Jesus' cross with his blood splattered on her face and dress. And, as on the day of the annunciation, Mary was still saying "yes" in the face of the cross. We, too, must say "yes" in the face of the cross. We cannot follow Jesus at a safe distance. Discipleship means following the Lord up close. We cannot follow Jesus alone. We do so in the context of community, of the body of Christ, of his family.  Read it all here.
POWER POINT U: LIFE OR DEATH
This slideshare on "Death by Power Point" has been posted here before but it still holds true. The continuing theme through this week about improving presentations reminds us that it is not only about the font size or the imagery  bit it is about the passion as well. (To watch with full screen, go here.
o Sunday, January 13, 2008
FRANKLY, IT IS
   The Cleveland Plains-Dealer recently ran an article about young Catholics and Mass attendance.  The quotable quote comes from Greg "Dobie" Moser said the church must listen to young Catholics "because they believe it's their church, and frankly it is."  He advises parishes to seek out the gifts of young Catholics and include them with other age groups in the liturgy. "When people get recognized and affirmed for what they're good at doing, they won't move."  
WRITING CONTEST
The America Essay Contest is open to writers of all ages. At a time when atheism and religious belief have
become prominent issues of discussion and debate in both our nation and our church, the theme chosen for the contest is for response to the following  "A Case for God." Prize is $3,000. See more here.
POWER POINT U: INTRO 101
    At month's end, we are off to the NFCYM's annual membership meeting.   As a public service to my friends and peers who will be attending, let's conduct a week-long review of what makes for effective use of power-point.  Hey, I love power-point – -  it is the basis of a majority of my trainings as well as the technology of slideshare.  Power-point is the modern day stained glass windows to our stories and training. But, power-point should also be done at a level of proficiency that doesn't make one want to scratch their eyes out. So, all right, class: Pencils down, mouses ready!
o Saturday, January 12, 2008
THE PILGRIMAGE PAGE
    The big event of the ArchBAlt year is our Pilgrimage. The promo web-page is up! Take a look here.
THE AQUARIAN GOSPEL – -  JESUS FOLLOWS HIS GOLDEN COMPASS TO THE EAST
    The birth and death narratives of Jesus are among the best-known stories in the world, even among non-Christians or the non-religious. What Jesus was like in between, however, has always been a bit more of a mystery. "Did he have zits? Did he have crushes? Did he play basketball?" asks Dale Martin, a religious studies professor at Yale University.
    Soon, some of those answers — or at least Hollywood's best guess — will be coming to a theater near you. Based on a book of the same title, "The Aquarian Gospel" plans to try to fill in the gaps of Jesus' "missing years."  Drew Heriot, whose previous credits include "The Secret," a best-selling but controversial self-help DVD that claims "to reveal the most powerful law in the universe," is set to direct, and said the film will show a fictional account of Jesus not only as a young man but as a traveler to the East. The $20 million film will follow Jesus as he follows the ancient Silk Road, with stops in India, Persia and Egypt among other places. Along the way, Jesus will come to know "the world's greatest seers and sages," and will reunite with the Magi who visited his crib in Bethlehem, say producers of the film.  Read more here
EVANGELIZATION NOTES
  From the CDF's "Doctrinal Note on Some Aspects of Evangelization:" The Church's commitment to evangelization can never be lacking, since according to his own promise, the presence of the Lord Jesus in the power of the Holy Spirit will never be absent from her: "I am with you always, even until the end of the world" (Mt 28:20). The relativism and irenicism prevalent today in the area of religion are not valid reasons for failing to respond to the difficult, but awe-inspiring commitment which belongs to the nature of the Church herself and is indeed the Church's "primary task". "Caritas Christi urget nos – the love of Christ impels us": the lives of innumerable Catholics bear witness to this truth. (13)
o Friday, January 11, 2008
SABBATH BY THE SEA
  On retreat in Ocean City, MD. this weekend. Robert Feduccia is doing an excellent job leading the first half of our weekend.

THE PASSION OF THE YOUTH MINISTER
  It might be difficult to attach words like passion and vision to a uber-techno-geek like Steven Jobs, but the i-pod and Mac's come from somewhere. Tim Schmoyer posted this up because it reminded him of youth workers. Who are the youth ministers that this video reminds you of??  Let them know and send them an e-mail calling their attention to the video today!!
EVANGELIZATION  NOTES
  From the CDF's "Doctrinal Note on Some Aspects of Evangelization:" Thus one understands the urgency of Christ's invitation to evangelization and why it is that the mission entrusted by the Lord to the Apostles involves all the baptized. The words of Jesus "go therefore and teach all nations, baptizing them in the name of the Father, the Son and the Holy Spirit, teaching them to observe all that I have commanded you"), are directed to everyone in the Church, each according to his own vocation. At the present time, with so many people in the world living in different types of desert, above all, in the "desert of God's darkness, the emptiness of souls no longer aware of their dignity or the goal of human life", Pope Benedict XVI has recalled to the world that "the Church as a whole and all her Pastors, like Christ, must set out to lead people out of the desert, towards the place of life, towards friendship with the Son of God, towards the One who gives us life, and life in abundance". (10)
o Thursday, January 10, 2008
BLOG ADVISORY (post # 1955)
   Hitting the road to Ocean City for the weekend for our office's Sabbath weekend.  Don't anticipate any break in service, but, you are advised, nonetheless.  If systems are working, watch for stories and pictures.
THE TIMELESS SOMETHING MORE
  In YouthWorker Journal, Walt Mueller has an excellent article, The Focus of Youth Ministry is the Unchanging Human Heart. A key snip: But the things that drove them are really no different than what's driving kids today: a yearning for significance, purpose in life and that evasive "something more." . . . While it's important for us to keep up with rapidly changing trends that influence our students, it's even more foundational and necessary for those of us who minister to kids to know that spiritual yearning is a cultural constant that touches every life across all times and places. Read more here.
EVANGELIZATION NOTES
  From the CDF's "Doctrinal Note on Some Aspects of Evangelization:" The Christian spirit has always been animated by a passion to lead all humanity to Christ in the Church. The incorporation of new members into the Church is not the expansion of a power-group, but rather entrance into the network of friendship with Christ which connects heaven and earth, different continents and ages. It is entrance into the gift of communion with Christ, which is "new life" enlivened by charity and the commitment to justice. The Church is the instrument, "the seed and the beginning" of the Kingdom of God; she is not a political utopia. She is already the presence of God in history and she carries in herself the true future, the definitive future in which God will be "all in all" (9)
o Wednesday, January 9, 2008
QUINCEANERA 
An elaborate coming-of-age ritual for Hispanic girls on their 15th birthday, the Quinceanera has long been divisive in the U.S. Catholic Church, where it's viewed as either an exercise in excess or a great opportunity to send a message about faith and sexual responsibility. The latter view won an important endorsement last summer, when the Vatican approved a new set of prayers for U.S. dioceses called Bendicion al cumplir quince anos, or Order for the Blessing on the Fifteenth Birthday.  Read more here

FIFTEEN AND YOUNGER
Traffic is beautiful downtown B'more was a mess tonight. The reason? Parents driving teen and 'tween girls to the Hannah Montana concert.
EVANGELIZATION NOTES
  From the CDF's "Doctrinal Note on Some Aspects of Evangelization:" The primary motive of evangelization is the love of Christ for the eternal salvation of all. The sole desire of authentic evangelizers is to bestow freely what they themselves have freely received: "From the very origins of the Church, the disciples of Christ strove to convert men to faith in Christ the Lord; not, however, through coercion or tactics unworthy of the Gospel, but above all by the power of the word of God". (8)
o Tuesday, January 8, 2008
MY LAST POLITICAL BLOG POSTINGS
    at least for a while – – but it is fascinating.  New Hampshire does their share today.
THE MILLENNIAL VOTE
    Last summer, Barack Obama took a lot of heat for skipping a candidate forum in Iowa sponsored by the AARP, choosing instead to attend a hip-hop event starring Usher. But Obama clearly knew something others didn't, and that zig where others zagged now appears to have been a shrewd move on the path to a dramatic achievement. Obama's youth-oriented campaign drew under-25 voters to Thursday's Iowa caucuses in record numbers, and these first-time voters gave him most of his margin of victory. TIME magazine looks at it here
HERE'S WHY:
Every eighty years a "Civic" generation, like the GI Generation and now the Millennials, comes along with a determination to use their size and their facility with communication technology to change the political culture of America. 2008 will be the first election when Millennials, the largest generation in American history, born between 1982 and 2003, will be eligible to vote in sufficient numbers to tip the political scales to candidates who they favor, but they have already made their presence known to those analyzing election data, not just the latest poll results. They, along with the last remaining members of the GI Generation, were the only age groups to cast majority votes for John Kerry in 2004. The YouTube inspired involvement of Millennials in the Senate races in Virginia and Montana was the difference in those two close elections, returning Democrats to majority status in 2006. But those initial tremors are minor compared to the tsunami of change that Millennials will set in motion in the 2008 elections.
    Jaded pollsters, like Clinton's Mark Penn, and columnists, like Thomas L. Friedman, who have been waiting for the emergence of a sizeable youth vote and youthful activism for decades, completely ignored this emerging phenomenon believing that today's youth would disappoint those hoping for any sign of political commitment, just as people under 25 had done ever since the 1970s. But . .  ever since 9/11 today's youth have voted in increasing numbers, at a growth rate that surpasses that of all other generations. Now that they have a candidate like Barack Obama who appeals to this generation's partisan passion for changing America, their impact will reverberate across the country as loudly as it did in Iowa last week> Read the whole posting here
EVANGELIZATION NOTES
  From the CDF's "Doctrinal Note on Some Aspects of Evangelization:" Evangelization does not only entail the possibility of enrichment for those who are evangelized; it is also an enrichment for the one who does the evangelizing, as well as for the entire Church. For example, in the process of inculturation, "the universal Church herself is enriched with forms of expression and values in the various sectors of Christian life… She comes to know and to express better the mystery of Christ, all the while being motivated to continual renewal". . . . Every encounter with another person or culture is capable of revealing potentialities of the Gospel which hitherto may not have been fully explicit and which will enrich the life of Christians and the Church.  (6)
o Monday, January 7, 2008
JESUS' STOCK IS RISING
  The end of 2008's first day of trading at the Manila stock exchange ended with Mass. (As usual, click pic to enlarge.) Picture from here.
DIRECTIONS AND CHALLENGES
  International youth ministry Dare 2 Share has forecasted the direction Christian teens will head this new year and the challenges they will most likely face. They include: "Go Green" will become the rallying cry for this generation; there will be a rising cynicism toward organized religion among teens; and "Starbucks Spirituality" will become more prevalent in the media. Read more here
KEEPING YOU AWAKE
  "Dream is not what you see when you sleep…It's the thing which does not let you sleep"  Dr. A.P.J Abdul Kalam – 11th President of India
EVANGELIZATION NOTES
  From the CDF's "Doctrinal Note on Some Aspects of Evangelization:" Today, however, with ever-increasing frequency, questions are being raised about the legitimacy of presenting to others – so that they might in turn accept it – that which is held to be true for oneself. Often this is seen as an infringement of other people's freedom. Such a vision of human freedom, separated from its integral reference to truth, is one of the expressions "of that relativism which, recognizing nothing as definitive, leaves as the ultimate criterion only the self with its desires and under the semblance of freedom, becomes a prison for each one".  (4)
o Sunday, January 6, 2008
EPIPHANY DUCKS
   Some days ago, the following note appeared on the desks of many of my co-workers along with the six ducks pictured on the left: Epiphany quacks me up! After the celebrations of Christmas and New Years, the feast of the Epiphany might seem rather unimportant or, as the Mexicans might say, "patito."   I was gift shopping recently at the Drake Hotel, saw this special crèche, and thought, "My, this fits the bill." You might think this gift is rather Daffy, but so is delivering Gold, Frankincense, and Myrrh to a baby who will become a sitting duck for the sake of our salvation. It is our sincerest hope that you do not find this gift to be "fowl."
ON-LINE CLASS
  In my free time (yea, that's right- free time! Deal with it!); I'll be participating in an on-line class offered through the Virtual Learning Community for Faith Formation (VLCFF). This is a growing initiative of the University of Dayton to offer adult religious education and faith formation anytime and anywhere via the internet.

ON-LINE "CLASS(?);" CAJUN STYLE
  Mike Patin, who has already been blogging, is now experimenting with the world of podcasting.  See and listen here.   Watch for the end of this month when Mike, a previous Inside the Youth Ministers' Studio guest, takes over temporary hosting duties.  Be afraid, be very afraid.
EVANGELIZATION NOTES
  From the CDF's "Doctrinal Note on Some Aspects of Evangelization:" "If I preach the Gospel, this is no reason for me to boast; it is a duty for me. Woe to me if I do not preach the Gospel!". Thus, it is evident how every activity of the Church has an essential evangelizing dimension and must never be separated from the commitment to help all persons to meet Christ in faith, which is the primary objective of evangelization: "Social issues and the Gospel are inseparable. When we bring people only knowledge, ability, technical competence and tools, we bring them too little".  (2)
o Saturday, January 5, 2008
LIFE BY THE MANE
  I've been a reader of Mark Batterson's e-votional for almost two year's now.  I've actually met Mark as he is based close-by in Washington DC.  Yet, I'm embarrassed to say that I was prompted to post Mark's Lion Chasers Manifesto after reading Ian's blog from across the pond.
  The Lion Chasers Manifesto comes from Mark's first book In a Pit with a Lion on a Snowy Day which is inspired by one of the most obscure yet courageous acts recorded in Scripture, a blessed and audacious act that left no regrets: "Benaiah chased a lion down into a pit. Then, despite the snow and slippery ground, he caught the lion and killed it" (2 Samuel 23: 20 -21).
  Here it is:  "Quit living as if the purpose of life is to arrive safely at death. Grab life by the mane. Set God-sized goals. Pursue God-ordained passions. Go after a dream that is destined to fail without divine intervention. Keep asking questions. Keep making mistakes. Keep seeking God. Stop pointing out problems and become part of the solution. Stop repeating the past and start creating the future. Stop playing it safe and start taking risks. Expand your horizons. Accumulate experiences. Consider the lilies. Enjoy the journey. Find every excuse you can to celebrate everything you can. Live like today is the first day and last day of your life. Don't let what's wrong with you keep you from worshipping what's right with God. Burn sinful bridges. Blaze a new trail. Criticize by creating. Worry less about what people think and more about what God thinks. Don't try to be who you're not. Be yourself. Laugh at yourself. Quit holding out. Quit holding back. Quit running away"
EVANGELIZATION NOTES
  From the CDF's "Doctrinal Note on Some Aspects of Evangelization:" The term evangelization has a very rich meaning. In the broad sense, it sums up the Church's entire mission: her whole life consists in accomplishing the traditio Evangelii, the proclamation and handing on of the Gospel, which is "the power of God for the salvation of everyone who believes" and which, in the final essence, is identified with Jesus Christ himself. Understood in this way, evangelization is aimed at all of humanity. In any case, to evangelize does not mean simply to teach a doctrine, but to proclaim Jesus Christ by one's words and actions, that is, to make oneself an instrument of his presence and action in the world. (2)
o Friday, January 4, 2008
SOUL SEARCHING – -  THE MOVIE
   I blogged about this in what seems a trillion years ago, actually March 9, 2007. Now the movie is finally out, released in the middle of last month.  I have ordered a copy and will report upon it later.  An early review indicated that Catholics might feel short-changed by the movie, but considering the book's take on Catholic Youth Ministry, that might not be the worse thing.
CELEBRATE CHASTITY
  The NFCYM has accepted my workshop proposal Something Positive to Offer: Teaching About Chaste Living for the National Conference on Catholic Youth Ministry to be held December 4-7, 2008 at the Cleveland Convention Center.  I'll probably attempt to slideshare the whole thing on-line during the conference itself.
EVANGELIZATION NOTES
  In December, the Congregation for the Doctrine of the Faith sent out a "Doctrinal Note on Some Aspects of Evangelization."   See here. Over the next few days, we will be offering some excerpts from it.
o Thursday, January 3, 2008
CAUCUS DAY
  If you have not been tuned into the 2008 elections, perhaps today is a good day to focus.  Democracy happens as a gathering of neighbors, a faithful citizenship, assembles in schools, libraries, and churches across the frozen Iowa tundra.

THE JESUS ENDORSEMENT
  Watch out, Candidates that are embracing the message of Jesus might not actually be embracing the full message of Jesus. This whole "Jesus endorsement" thing might not be about what you think it is about.
THE FUTURE WITHIN OUR REACH
  Meanwhile, it's difficult not to be caught up in this sort of rhetoric:
  . . . That's the future within our reach.  That's what hope is – that thing inside us that insists, despite all evidence to the contrary, that something better is waiting for us around the corner.  But only if we're willing to work for it and fight for it.  To shed our fears and our doubts and our cynicism.  To glory in the task before us of remaking this country block by block, precinct by precinct, county by county, state by state.
    There is a moment in the life of every generation when, if we are to make our mark on history, this spirit must break through.
    This is the moment.
    This is our time.
     And if you will stand with me – if you will stand for change so that our children have the same chance that somebody gave us; if you'll stand to keep the American dream alive for those who still hunger for opportunity and thirst for justice; if you're ready to stop settling for what the cynics tell you you must accept, and finally reach for what you know is possible, then we will win this caucus, we will win this election, we will change the course of history, and the real journey – to heal a nation and repair the world – will have truly begun.
    The candidate? See the whole speech here
o Wednesday, January 2, 2008
back TO WORK
  The cubicles. the "to-do" list, the in-box and the voice-mails await.
CHURCH MARKETING
  'Tis the season to be promoting your 2008 calendar of events.  Chris Forbes has fifteen recommendations as to how we might be able to improve our marketing efforts here
teenager's brain: well-developed accelerator, partly developed brake
  This circuitry in the frontal lobes weighs how much priority to give incoming messages like "Do this now" versus "Wait! What about the consequences?" In short, they are key for making good decisions and controlling impulses. Brain scans show that the frontal lobes don't mature until age 25, and their connections to other parts of the brain continue to improve to at least that age. The inexplicable behavior and poor judgments teens are known for almost always happen when teens are feeling high emotion or intense peer pressure, conditions that overwhelm the still-maturing circuitry in the front part of brain.  Therefore, a teenager's brain has a well-developed accelerator but only a partly developed brake. Read more here.
CAN CAN
  My youngest daughter, Meghan (who clearly has her own teenaged brain wiring difficulties) is offering her rendition of how the Miller clan gathers and celebrates the New Year here. It is very disturbing.
o Tuesday, January 1, 2008
BLESSINGS
  Let us begin 2008 with a Franciscan Benediction:
May God bless you with discomfort,
   at easy answers, half-truths, and superficial relationships,
   so that you may live deep within your heart.
May God bless you with anger,
   at injustice, oppression, and exploitation of people,
   so that you may work for justice, freedom, and peace.
My God bless you with tears,
   to shed for those who suffer from pain, rejection, starvation, and war,
   so that you may reach out your hand to comfort them and turn their pain to joy.
And may God bless you with enough foolishness,
   to believe that you can make a difference in this world,
   so that you can do what others claim cannot be done.
NEW

  It's a new dawn, it's a new day, it's a new life for me. . . Hey, you know how I feel? Dr. Nina Simone seems to. . . she's feeling good.  Happy New Year! This old world is a new world. Let's go!
IMPROVED
  The new lay-out has been active since right after Christmas. While getting a wider view of the most recent posting above the scroll fold, it's not that much of an improvement there, right? But, plans are underway that will add enhancements by the next e-newsletter in mid-February.  Stay tuned.
RUNNING THE NUMBERS
  I was reminded last night what an honor it is to serve this little virtual community that has assembled here. Thank you for visiting. As we enter into the fourth calendar year of blogging, let's review, if only to serve as a marker for future inventory checks,  where we are at:
  > Forty-Five podcasts, forty of which include visitors Inside the Youth Ministers Studio; (over seven hours of downloadable magic!)
  > the posting of fifty published articles.
  > the posting of eighty-nine power point presentations utilized in trainings
  > the addition of differing technologies, including many YouTube video (two which were self produced) and SlideShare trainings including six of mine and two FirstUp's
  > Visits to Two Hundred Six diocesan web-sites as part of the States tour; and
  > One Thousand Nine Hundred Twenty-One distinct blog entries covering stuff from "my corner of the Catholic Youth Ministry field."
  > and, most of all, one Lord whom we hoped is praised by this effort and continues to bless this ministry.